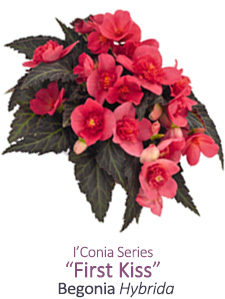 Floremara, LLC 1501 Lischey Ave. Nashville, TN 37207


PH 615-228-2683 FAX 615-228-5831
Floremara combines more than just the names of two companies - Florema and Optimara. Florema, based in the Netherlands, is the world's largest grower of Elatior Begonias and is among the leading producers of Europe's Cyclamen, Hydrangeas, Impatiens and other plants. Optimara, whose North American operation is located in Nashville, Tennessee, is the world's largest grower of African Violets and is the acknowledged leader of both R&D and marketing for their industry. Together, these two companies provide Floremara with a formidable combination of experience and expertise in the cultivation, research and marketing of flowering plants.
Floremara, which is based in Nashville, offers unrooted cuttings for Elatior Begonias, New Guinea Impatiens and Poinsettias. U.S. and Canadian growers can order cuttings and rooted plugs for Elatior, Volcano and Solenia varieties. Continuing the long tradition that has been the hallmark of both Florema and Optimara, Floremara provides vigorous performance and unsurpassed quality in all of their plants. To do this, Floremara will employ the very same growing techniques that have been perfected in Europe and have made Elatior Begonias so popular in the EU market.